LIMITED AVAILABILITY!!!
Rabbit & Carrot Sticks – 100% USA Sourced & Made, 5 – Ingredient Dog Treat
K-9 Kraving Rabbit & Carrot Sticks provide a healthy snack, snack for all dogs, especially puppies, small breed and aging canines. Fur in this blend also enhances canine digestion. Serve whole or break intro smaller pieces. Recommended for all: Breeds, ages, sizes
INGREDIENTS: Rabbit Meat, Rabbit Feet w/ Fur, Carrots, Egg Powder and Psyllium Seed Husk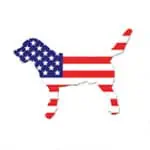 QUANTITY: 6 pieces
All natural & minimal processing. Individual batch color will vary.